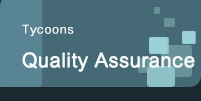 Innovation and changes,
we transcend ourselves to ensure your satisfaction to our products.
Tycoons Worldwide Group (Thailand) Public Co., LTD. is a professional manufacturer in producing
steel wire rod, deformed bars, round bars, spheroidized annealing wires, Screws, Bolts, and threaded rods.
Since 1996, we provide products are consistently produced and controlled to the quality standards
appropriate to their intended use and as required. You can find your needs in one-stop shopping for
the best products with reasonable price.
Our quality policy is "Production and distribution of steel products based on customer requirement
and concerned standards for various products with reasonable prices, high quality, on time delivery,
fulfill needs and enhanced of customer satisfaction. Commitment to practice on quality management system
requirement and improve the effectiveness of the system continuously." We understand your needs and
desire for quality service and superior.Therefore, we are always interested in implement continuous
improvement with ISO-9001 to maintain an efficient quality management system.