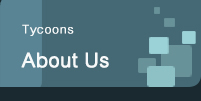 Tycoons Corporation has the advantage of vertical integration of core technology with absolute independence and self-determination.
World-class Flexible Mass Production Capability
Tycoons Worldwide Group (Thailand) Public Co., LTD. has structured a highly automatic world-class mass production system of its vertical integration including steel-making, rolling, drawing, and screw shaping to fit the different needs of customers.
Cooperation and Integration
Through regional cooperation and integration, Tycoons Corporation integrates its core technology to upgrade the product quality and company competitiveness.
Sustainable Development with Environmental Protection
Focusing on reduce, recycling and reuse, Tycoons Corporation has put environmental consideration into every detail of the factory design which choose non-polluting, energy saving equipment, improve the production process continuously, and invest heavily in building the modern wastewater treatment facility and environmental laboratory, In order to guarantee the quality of working environment.
Strengthens our core autonomous technology, develops advanced technology and versatile products, raises production capability and quality, sets up worldwide after-service assistance center and service network so as to grow with clients and create a fruitful mutually.